Blackie
Marilyn and J.C. Ash of Sand Springs, OK, purchased this Loadside from Terry Kalp in October, 2005. They also own two '64 Rampsides: this one and that one.
Terry had the following to say about the truck:
"Options include the PowerGlide transmission and a radio. The engine is not original. The chrome bumpers result from the truck belonging to a bumper company at one time in its life (some lettering remains). While the topper is fairly ugly the truck has an interesting option, the raised cargo floor.

According to the previous owner the truck was a daily driver until the last three years, when a massive oil leak grounded it. The motor turns over but there are no brakes. I will try to get it running and stopping then it will have to wait in inside storage. It has typical rust and a couple of dents.

I have located a parts truck: a '61 Loadside, also black. I will use the tailgate and the engine is original and good but for a manual transmission (wrong code). I will be using the body for patch panels and small parts."
I can't wait to see what Marilyn and J.C. do with this rare rig, which they have nicknamed "Blackie".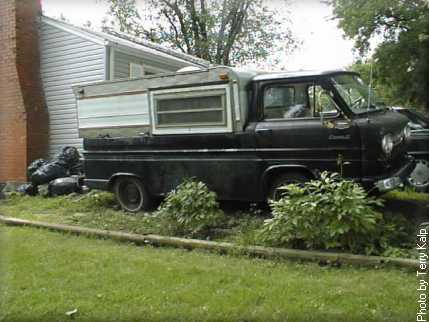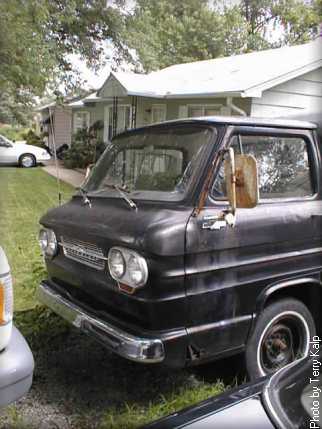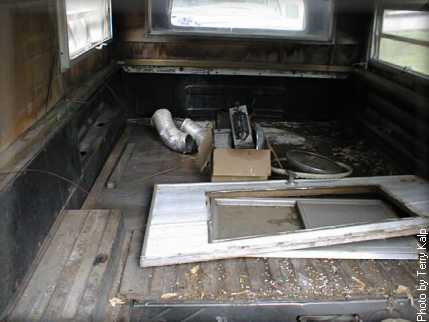 Information from the data plate
| | Description | | |
| --- | --- | --- | --- |
| STD | Standard equipment | 500A | Black, solid color |
(Click on a heading in the table for more information on that item.)