The One That Got Away
Carson Trent, a neighbor in my hometown (St. Paul, IN), gave me the '63 Greenbrier pictured at left in the late '80s. He had previously purchased it for just $75 from Archie Coffee of Shelbyville, IN due to an "engine problem" (which he quickly diagnosed as a oushrod slipped out of its rocker arm).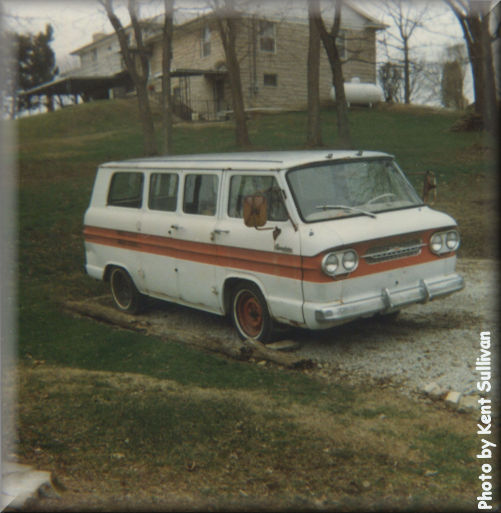 I didn't do much during the time I owned it except replace a broken rear side window and replace the tires.
I would really have liked to have restored this vehicle since it had the factory camping option. Nearly everything was intact although some of the woodwork had deteriorated while the rear side window was missing.
I sold the Greenbrier midway through my junior year in college after I realized it was likely to be a long time before I could afford to devote serious attention to the van. Gene and Sharon Haub of Greenville, IN bought it from me. They owned it for several years before selling it to Paul Chapman of Salem, IN.
Paul intended to restore the van but reality thought otherwise and the van was unfortunately scrapped in June, 2005. What a shame!
The Haubs were nice enough to send me back the title that I signed over to them in 1988. They had never transferred it since they never got the van running. What a time warp to have the title back in my possession.