A Donor Truck
I have known about this truck for over two years but waited several years before purchasing it—for parts. The previous owner had a large, non-running diesel truck blocking access. Fortunately, he eventually donated the truck to a technical school, opening the path to retrieve the Rampside.
The first picture was taken on the day of purchase (2/2/99) at the previous owner's house. It's pretty easy to see that the Rampside hadn't moved in several years. Rich Felzer and I inflated the tires but the front tires would not seal against the rims.
Pictures 2 - 4 were taken the next day (2/3/99) at Rich Restorations. Photo #2, at left, gives a good view of the right front.
The Trim code indicated that this was a standard rig (not equipped with RPO Z60). The Paint code showed that the truck might have been sporting its original exterior color scheme: solid Red (no white stripe, code 514).
This shot shows the left rear, where a nice dent could be found—very typical of Rampsides that were used for work.
One nice thing about the truck was that the original license plates were intact. I intend to use them on Rampside 111819, which I purchased later in 1999.
The picture at left shows the interior from the passenger side. The seat was pretty much all there but the upholstery was in very sad shape. The glove box contained a few crumbling registration receipts and even included the application for title from the previous owner. He applied for title transfer from the prior (first?) owner on September 11, 1978. I have a feeling that the truck was in considerably better shape then; he explained that he drove it to his house under its own power.
The instrument cluster was in nice shape and may be transplanted to truck 111819.
This photo shows the vehicle after being liberated from its wobbly canopy on about 2/12. Although not visible in these photos, the bed was in fairly nice shape, no doubt from the years of protection by the canopy. The tailgate was in reasonably-nice shape too.
In the not-so-nice shape category was the ramp, as shown, rather obviously, in this photo.
This Rampside had an engine but it wasn't the original. The date code verified that it was a replacement 110 HP engine (XXZ suffix).
Rich and I removed all of the serviceable parts and then had the remains hauled away in the fall of 1999.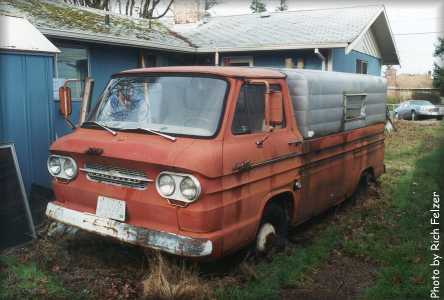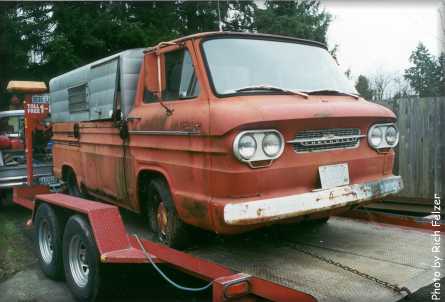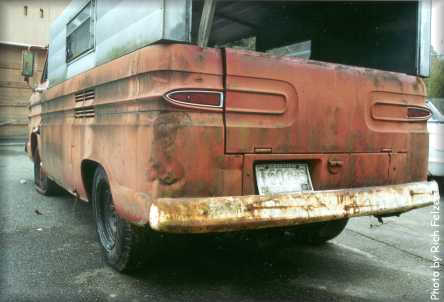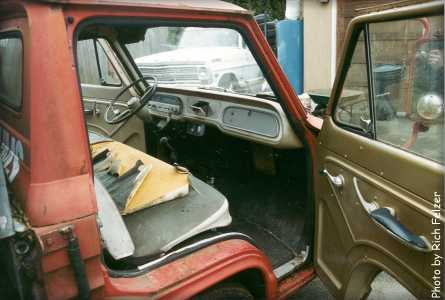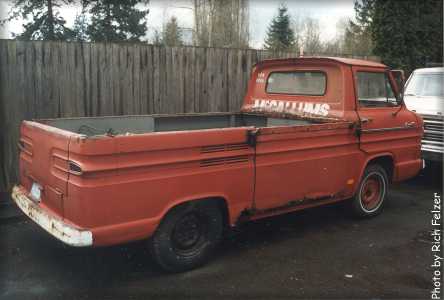 Information from the data plate
| | Description | | | | Description |
| --- | --- | --- | --- | --- | --- |
| STD | Standard equipment | 5514AA | Red, solid color | 07 4 | July, 1964 |
(Click on a heading in the table for more information on that item.)