3200cc Mighty Mouse
Here's a race-proven method for increasing the power and longevity of Chevrolet's horizontally opposed 6-cylinder engine
Back in the early days of sand duning, before the advent of specialty businesses that manufactured aftermarket speed equipment for the humble VW engine, the performance motor of choice for many buggy owners was the Corvair. Even though Chevy Corvairs were not thought of as race cars, people opted to take this route for the simple reason that VWs only have four cylinders and the Corvair is equipped with six and is also air-cooled. More cylinders equal more power, right? In some cases this was true, but as time rolled on things changed and the VW-engined cars began to surpass even the healthiest Corvair-powered dune buggies. What happened next was that people began finding ways to make their Corvair engines perform better to remain competitive, but due to a limited demand for hi-performance Corvair parts the selection of aftermarket components for the engines was very limited. So, therefore, increasing the displacement of a Chevy Corvair engine is quite a chore, but certain crafty people have been known to do it successfully nonetheless.
The fact that larger displacement engine kits are basically nonexistent for Corvairs makes it tough to extract more power from one of these engines, but that's just the beginning. Knowing what's required and how to do the custom work involved is the biggest challenge. To begin with, the engines of choice for buggy applications are the 140 hp-rated 164 cu. in. engine from a 1965-69 model.This is the most desirable engine to use because it has better cylinder heads than the earlier 110 hp, 164 cu. in. design. The major differences with the heads are the valve size and valve angle, as well as the intake port design. Actually, intake design differences are not that important since the stock plenum runners are removed and individual runners are built and adapted to the heads in most cases by performance enthusiasts. These direct runners are better since they flow more air and the design is more efficient for performance applications.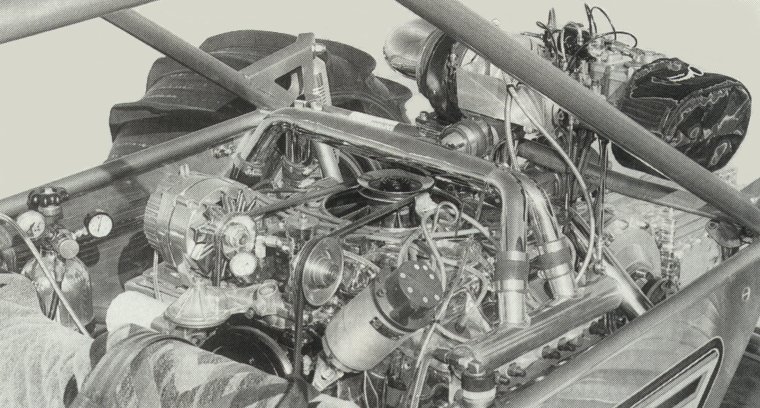 Above, a turboed 3187cc Corvair mounted mid-engine in a 135-in. D.L. King chassied dune buggy.