This article was published in the December, 2003 CORSA Communique and appeared under Steve Laser's byline. Steve provided a few extra photos for this online presentation.
My return to Corvair ownership following a 20-year hiatus began with an e-mail. My dear friend Craig Nicol (South Coast CORSA's first president and my lifelong automotive mentor) had just expanded his fleet. Craig, who now lives in Coeur d'Alene, Idaho, had purchased a '67 Monza sedan and a '65 Greenbrier Deluxe from a collection that was being liquidated in Washington state. His plan was to spruce up the Greenbrier and sell it, using the funds to help restore the Monza. It was May 2001, almost 20 years to the day that I sold my last Corvair. And so, the deal was sealed a few e-mails later. Craig would bring the Greenbrier back to life, and I would be its new owner.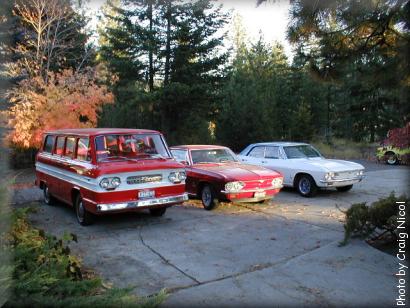 My Corvair addiction began in 1973 with a '68 Monza coupe. It didn't take long for Corvairitis to set in. My first car was followed by a '69 Monza convertible, '62 Monza coupe, '63 95 camper (previously owned by Craig), '65 Corsa convertible, and '62 Monza wagon. I served as editor of the local club's newsletter for five years and also held the posts of vice president and president. In 1981, at the ripe old age of 26, I was ready to move on to other things.
Not long thereafter (around 1984) my future Greenbrier-to-be began its lengthy hibernation. It was driven into a barn and not moved until Craig loaded it onto his trailer in 2001. Dr. J. E. Rockwell Jr. of Grangeville, ID originally purchased the Greenbrier on January 20, 1965 (one day after my tenth birthday). The selling dealer was Brown and Holter Chevrolet of Colfax, WA. We know this because the Greenbrier came with the Chevrolet warranty booklet and Protect-O-Plate. Records indicate that the good doctor sold it to a gentleman in Connell, WA, in 1976. This fellow had such an acute case of Corvairitis that he managed to amass a collection of some 175 Corvairs. When he passed away, his son decided to sell them.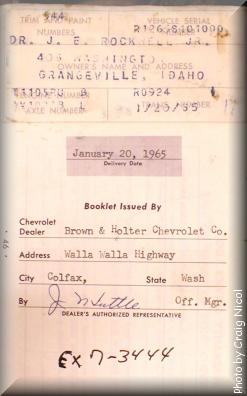 What happens to a Greenbrier when it sits inside a barn for 17 years? It gets covered with dust inside and out. The first picture I saw of my new rig wasn't a pretty sight. Yet it was a diamond in the rough. Chevrolet built a mere 1,528 Greenbriers for the 1965 model year before it pulled the plug on Corvair trucks forever. This one sported the Deluxe package which added a fancy interior (color-keyed vinyl door panels, chrome trim and bumpers, etc.). Options included a third-row seat, AM radio, 110 HP engine, four-speed manual transmission, and rare oil-bath air cleaner. To top it off, it was still wearing its original two-tone red and white paint scheme.
A GM dealer rebuilt the engine and transaxle in the late 1970s. They must have done a great job, because Craig was able to fire up the beast after its long nap with little provocation. So there we were with a barn-fresh Greenbrier that needed quite a bit of work to make it roadworthy. At the very least, the list comprised a complete brake job, engine reseal, new fuel pump, full exterior repaint, new seat covers, thorough cleaning of the gas tank and carbs, and a whole lot of detailing.
I lived without a Corvair for 20 years, so I didn't mind waiting a little longer for Craig to restore the Greenbrier. Actually, the whole process was kind of fun. I've never bought a vehicle over the Internet. We communicated via e-mail and rarely spoke on the phone. But this deal was much more than a "virtual handshake." It was a renewal of a long-term friendship. In the 1970s when Craig and I lived a few miles apart, he used to work on my cars. I learned quite a bit about the technical aspects of Corvairs and cars in general from Craig.
Twenty-plus years later and some 1,200 miles away, "Rip Van Greenbrier" was beginning to wake up. It was a real eye-opener for me as well. Deep down I realized that I still loved Corvairs. Why did I wait so long to get back in the saddle?
The rarity of this rig is what attracted me to it in the first place. But upon further investigation, Craig discovered that the originality of this Greenbrier was one of its strongest assets. It had the correct '65 110 van engine, coupled to the correct transaxle. Even the codes on starter and alternator were of the proper vintage based on the manufacturing date of the van (November 1964).
Credit the original owner for driving this van over 100,000 miles and keeping it bone stock. The cracked bias-ply tires had to go (they weren't originals, of course) but the working AM radio would stay. I toyed with the idea of adding Chevy rally wheels, but decided to stick with the stock rims and wheel covers. I also thought of having Craig carpet the van, but the rubber floor mats were in good shape, so they would stay. I resisted the temptation to replace the stock instrument cluster with a Spyder dash or add air conditioning. (Opening the cowl vents and rolling down all six windows brings in plenty of fresh air.)
I was falling further into the "stock vs. modified" conundrum. I had no intention of turning this into a showpiece. I simply wanted a nice driver and something to tinker with. Yet Craig, who is also into Corvettes, brought up an excellent point: "The NCRS guys (Corvette club) have come to learn that originality can't be recreated, and many recent Corvette revivals are taking this approach." Okay, so a Greenbrier isn't a Corvette. Yet original Corvairs have always intrigued me. (The picture below shows Craig with his very early-production ultra-stock 1965 Corvette.)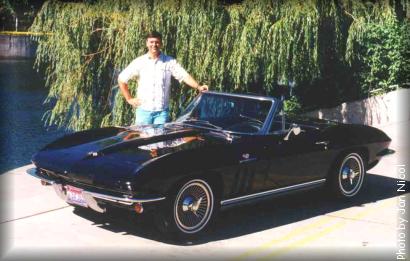 Anyway, back to the topic at hand. After cleaning the gas tank, it was time to tackle the brakes. It needed new hoses, wheel cylinders, linings and master cylinder. I asked Craig to install a dual master cylinder. Why? My last Corvair van had a single master cylinder. It lost all the brake fluid once, leaving me with only the hand brake to bring it to a stop. Thank heavens it happened on flat land! I was willing to give up a little originality in the interest of added peace of mind.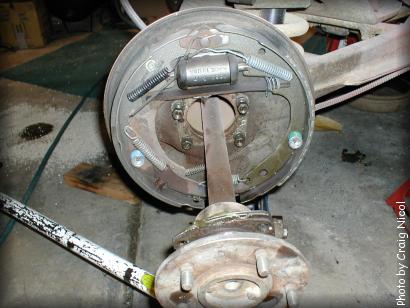 In the midst of the brake job, Craig cleaned and lubed the wheel bearings, replaced the U-joints and the shocks, rebuilt the carbs and replaced the battery. I was relieved when I received a report about his first drive in the van. The engine pulls well and has plenty of power. The trans, clutch, and diff seem fine. Handling seems normal. There is still a bunch of carb work needed. It doesn't idle well and the left bank hesitates off idle. The main thing is to get the carbs clean (it took a week in the solvent) and to have the gas tank clean. I am quite pleased to have it on the road and to have had a successful first journey." Bravo!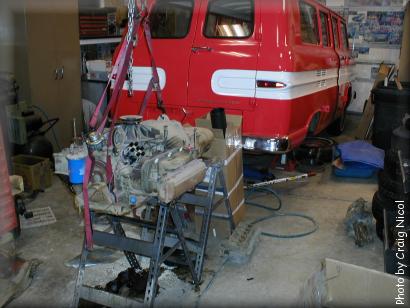 Now, what to do about the engine? It obviously needed new O-rings, a tune-up, and a thorough cleaning. In another minor deviation from stock, I decided to go with the Pertronix electronic ignition. Technology has advanced considerably since my previous years of Corvair ownership. Like the master cylinder, I liked the fact that this was an "invisible" modification that could easily be returned to stock.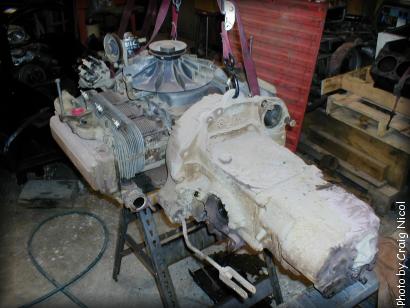 Being a doctor, the original owner kept meticulous records of the van's maintenance. In November 1971, he had the engine completely rebuilt by a GM dealer. The total bill with parts and labor came to a whopping $510. The transmission and differential were also rebuilt, at a cost of $300, including a new ring and pinion. Together, that was a sizable chunk of change in those days.
To put it in perspective, Craig said, "In 1971, my five-year-old '66 Fitch Sprint Corsa turbo convertible, with 42,000 miles, was only $499 at Bob's Select Used Cars in Redondo Beach, CA. The good doctor's overhaul cost more than my whole car!"
Okay, the powertrain was overhauled—but that was 30 years ago. Amazingly, the van had traveled less than 40,000 miles since then. It ran well, so Craig suggested we hold off on the thought of a rebuild and move ahead with a "freshening." That sounded good, since I was working with a limited restoration budget. In addition to some new gaskets and O-rings, he de-flashed the heads, had the shrouds powder coated, rebuilt the starter and alternator, and handled a myriad of other details.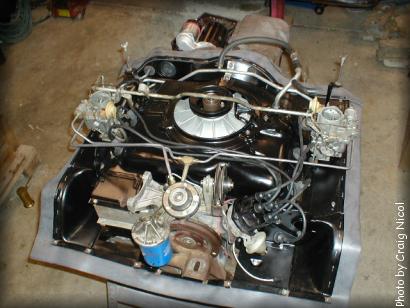 Rip Van Greenbrier was finally ready to be painted. Following all those years of indoor storage, it had amassed a collection of dings, scratches, and scrapes. Sadly, the original paint could not be saved. Yet amazingly, there was only one spot of rust on the body in the panel below the gas cap. Craig took the Greenbrier to a local Idaho body shop for the work.
One thing that couldn't be repaired was the front passenger's side door. It had been "over-opened," probably during a windstorm or simply by accident. The entire leading edge of the door was sticking out like a spoiler. As luck would have it, I located a guy in Vancouver, BC who was parting out a '65 Greenbrier Deluxe with the same red and white paint scheme as mine. Craig drove all the way to Seattle (14 hours) to a Corvair swap meet to rendezvous with him and picked up the door and some other stuff. What a pal!
A bit later, I decided that we needed to change the outside mirrors. The GB originally had the large West Coast style mirrors that I personally don't like. Following another Internet search, I discovered a set of the original FC round mirrors with offset mounting brackets in Oregon. I also bought a reprinted '65 Greenbrier factory assembly manual from a Corvair vendor so Craig could drill the mounting holes in the correct spots.
The original owner had someone install backup lamps on the van. Chevrolet never offered these as an option. They were actuated via an on-off switch mounted on the steering column bracket. Against Craig's wishes, I decided to have the setup removed. I thought the round lenses installed in the body above the bumper detracted from the otherwise stock appearance of the GB. What to do about the hole in the steering column bracket? Craig had a period correct emergency flasher kit that was a perfect fit. He wired it into the dash and it really looks cool.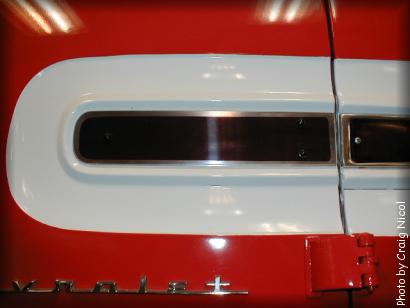 The GB was at the body shop for what seemed like an eternity, but actually was only a couple of months. Craig did a lot of detail work when it came back from the shop, removing some over-spray, installing the mirrors, and reinstalling the seats and door panels. (There was a lot more to it than this, but I'll leave out the smaller stuff for fear of putting everyone to sleep.)
What to do about the ragged seat covers? Once again, thanks to our vendors, we're able to order replacement seat covers that are very close to the originals. I decided to have all three seats recovered so they would match. The Deluxe red vinyl with the white stripe really looks great with the red and white exterior.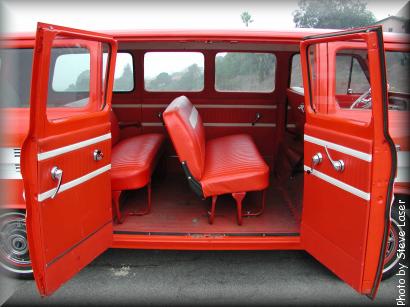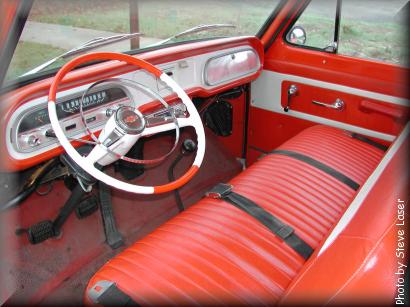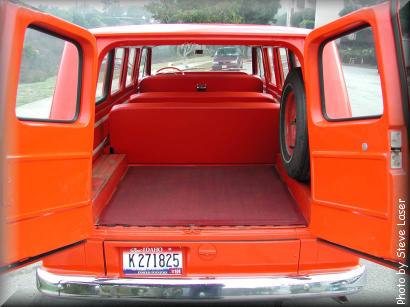 With the van almost all back together it looked like I might have my "Dreambrier" before winter's first snowfall. One day in late September, Craig was washing down the engine when he heard a strange noise. It was a rhythmic hissing—and you know what that means. A compression check revealed excellent compression in every cylinder, except number one. Here's a play-by-play from Craig on the repair.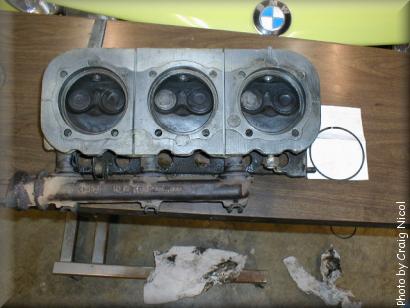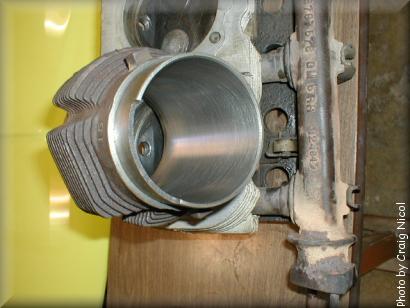 "The head gasket had about a 1/8" gap in it. It looked more like a piston ring than a head gasket. The cylinders are in remarkably good condition. The hone crosshatch was still visible. I ran a flexhone through the one I took off and you can see the result. Pistons and chambers look good. It's probably due to the lack of road use during the last segment of its prior life. Three new head gaskets, four O-rings (the others were excellent and only two weeks old) and it's off and running again."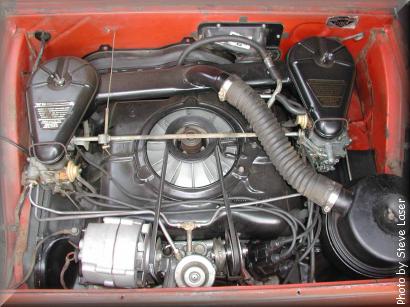 The van was finally ready to make its journey to my home in the suburbs of Los Angeles. It was mid-November and getting pretty chilly in Coeur d'Alene. I was swamped with work and unable to fetch it. Craig was equally busy, so it either had to come on a transporter or I'd have to wait until spring. I just couldn't wait any longer! Craig selected a transporter that he had good luck with in the past and off it went. The journey took about a week due to a big rainstorm up north.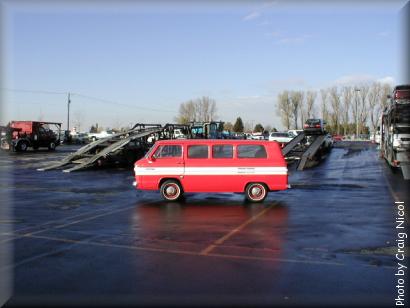 November 19, 2002 is a day I'll never forget. After a 21-year hiatus, I was the proud owner of my seventh Corvair. Rip Van Greenbrier was finally here! Craig did a fantastic job during the 18-month restoration. The drive home from the drop-off point was uneventful. However, I was disappointed about the slipping clutch. Craig said it was fine when it left Idaho. Apparently, the clutch got fried by the guys who loaded it on and off of several big car transporters in Seattle, Portland, and Stockton (there are steep, narrow ramps up to the top level of the trailer). So if you ever have a Corvair with a manual transmission trucked cross-country, I suggest you pay a little extra for a flatbed.
Fast-forward to the present. In the year that I've had the Greenbrier, I've driven it a scant 1,000 miles (it doesn't get used much since we have four cars). I've become a regular customer at Larry's Corvair, renewing another 30-year friendship. The clutch, pressure plate, and flywheel were replaced. I also had new lifters and rocker arms installed and a set of re-chromed bumpers installed.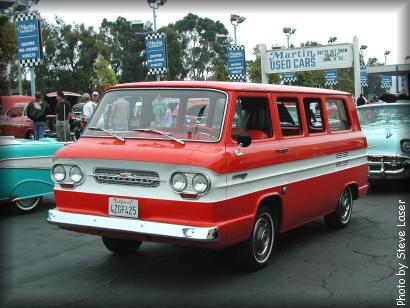 After a year of searching, I located a replacement horn ring. The original was cracked and beyond repair. This part is unique to the '65 Greenbrier Deluxe, as it is a 360-degree design. Now that the van drives and looks great, there are still some cosmetic issues I'd like to deal with. For instance, the original headliner and sun visors could stand to be replaced; there are holes in the floor for seatbelts for the second- and third-row seats, yet the belts are missing, and the windshield has a couple of small cracks that have been repaired but are still noticeable.
"Hold on Steve!" my conscience (and better half) suggested. It's time to slow down and enjoy your Greenbrier. I could have reduced my expenditures by doing some of the work myself. But free time is a rare commodity these days, unlike my carefree life of 30 years ago. I'll admit that my mechanical ineptitude has ripened with age. However, living in a condo rules out the notion of keeping a car on jack stands for weeks on end. (Actually, we're not even permitted to change the oil in the parking garage!)
I can't tell you how much fun it is to be back into it and enjoying the camaraderie of fellow Corvair enthusiasts. What's the moral of this story? Well, contrary to the old adage, you can go home again. And the friendships that you make through CORSA can last a lifetime. Corvairs (and Corvair people) forever!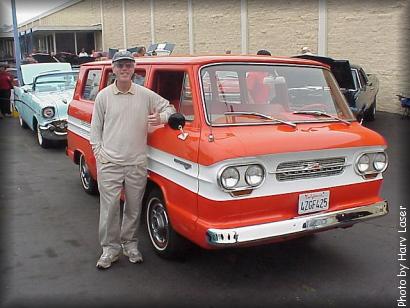 Read more about Steve's van in the '65 Greenbrier registry.