1966 Canadian Turbo Convertible Registry
Of the 211 Canadian Corsa convertibles produced in 1966, the best existing estimate is that 92 of them featured the turbocharged engine. Only a small fraction of those survive today. As of August 02, 2022, there are 10 known to still exist.
The cars are listed below by serial number. The serial number is the final six digits of the VIN. The first '66 Canadian Corvair had serial number 000001. In the table below, the two leading zeroes have been removed because the highest serial number issued was 006137.
One nice thing about owning a Canadian-built Corvair is that a full report of each car's production information is available from Vintage Vehicle Services for a nominal fee. The report contains information about options not listed on the car's body tag plus the date it was built, and to which dealer and when it was shipped.
Click on a serial number below for details on a particular car.
| Serial # | Owner | City | Province/ State |
| --- | --- | --- | --- |
| | | Burnaby | BC |
| | Peter Mills | Headingley | MB |
| | | Whitby | ON |
| | | Vancouver | BC |
| | | Scottsdale | AZ |
| | | Renfrew | ON |
| | | Georgetown | ON |
| | | Kelowna | BC |
| | | Prairie du Sac | WI |
| | | Winnipeg | MB |
If you have any information about other '66 Canadian Corsa turbo convertibles, please either register below or contact me via email. Thanks!
A Little Publicity for our Favorite Car!
John Gray, the owner of #4601 until November 2009, became mayor of Oshawa, Ontario in November 2003. Oshawa is of course the home of Canadian Corvair production. One of several articles published about John after the election included this nice shot of him and his car!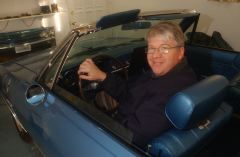 Photo by A.J. Groen, This Week photo
Group Pictures
Here are a couple of shots from Western Canada CORSA's 2000 Corvairitis Treatment Day, featuring two 1966 Canadian turbo convertibles!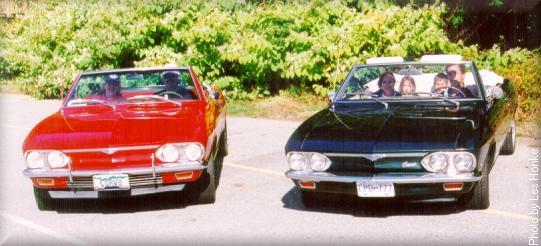 On the left is Bernie Pringle's car and on the right is Phil Parker's.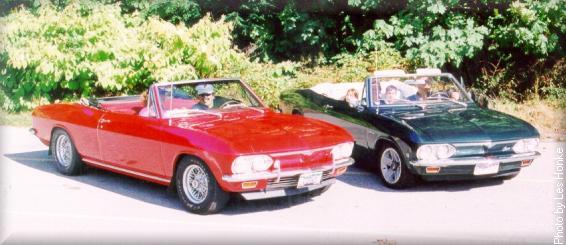 Until spring 2002, Bernie's car wasn't officially in the registry because part of the body tag was obscured. (A previous owner apparently didn't know what he had and converted it to V-8 power!) I checked out the car at CTD 2000 and it definitely is the real McCoy.
Phil's car didn't have a turbo engine when he bought it but he is putting one in during the winter of 2001-02. CTD 2000 was Phil's first meet in this car.